Welcome to Optics 3D Limited
We have prescription 3D glasses for sale, enabling people who wear glasses to watch 3D films and sports without wearing two pairs of glasses at the same time.
Please be aware that we are currently relocating. Because of this, there may be some disruption in fulfilling orders for the next month or two.
We sell prescription and non-prescription 3D glasses for RealD, MasterImage 3D, passive 3DTVs and Linear 3D. We also sell the same glasses as sunglasses. We are on Facebook, Twitter, Youtube and Instagram.
I have prepared this short video to demonstrate our products:

This video is also available in 3D by clicking here.
We have two ranges of product, our RxMono3D and and our more stylish RxMulti3D glasses. All our glasses feature tough rigid polarisers, much more sturdy than those of the cheap nasty glasses supplied by the cinemas.

Our lower cost product, RxMono3D, is a single system 3D glasses available for RealD, MasterImage 3D, passive 3DTVs, Linear 3D or as sunglasses. Note, Linear 3D, compatible with Imax 3D, comes in two types, with the linear polarisers set at 0°/90° and those with them set at 45°/135°, both of which we support. Glasses for one of these will not work with the other, unless you tilt your head at 45°!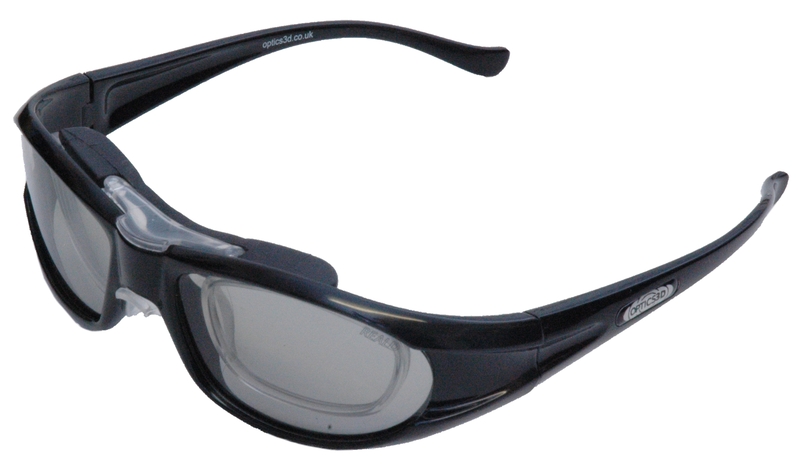 These all use an insert to hold prescription lenses whih clips into the inside of the frames. The advantages of this are that they do not have to be prescription 3D glass all the time, for example, if you wear contacts lenses are worn, and if your prescription changes only the insert needs to changed.
We also have a more upmarket product, RxMulti3D which are 3D glasses with interchangeable polarisers held in lens holders which clip into place. Polarisers for RealD/MasterImage 3D/passive 3DTVs, Linear 3D and sunglasses are available. The allows the user to use the same glasses for either 3D system, or, when not watching 3D content, can be used as sunglasses. The glasses are available in a range of frame colours, namely black, blue, cyan, green, pink, red, transparrent, vioelt and red, the glasses use the same prescription insert as the RxMono3D glasses.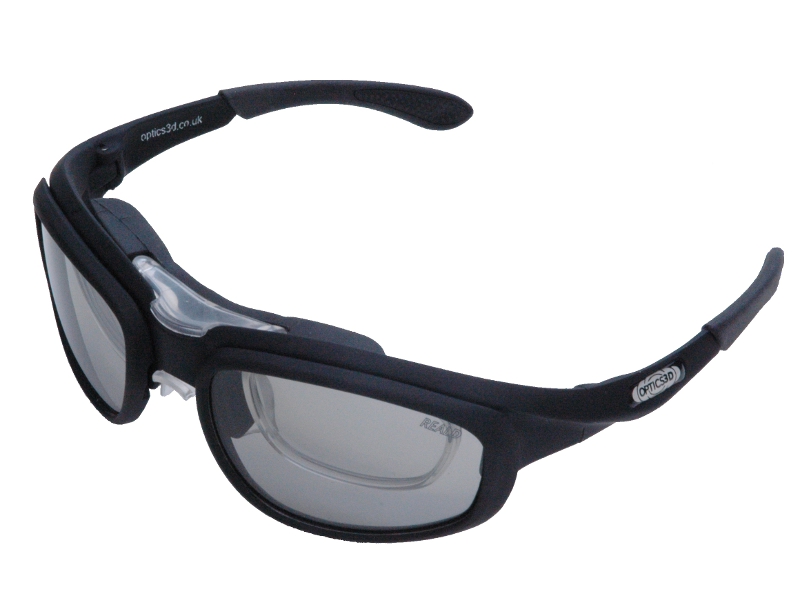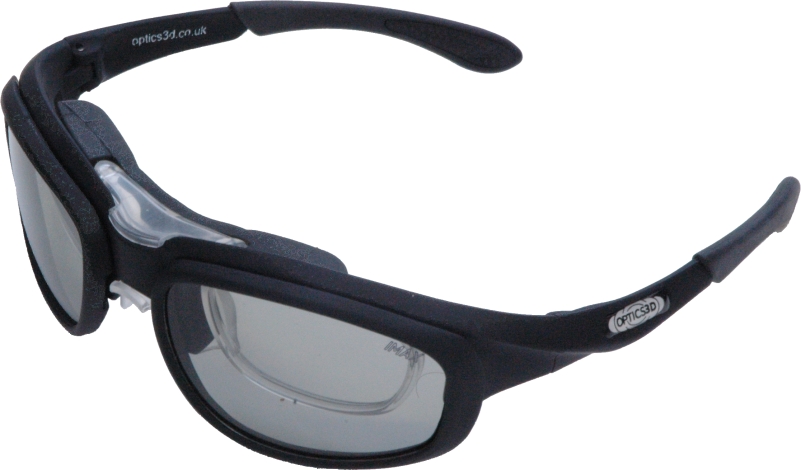 Our top of our range product is our RxMulti3Di glasses. Using the same frame as the RxMulti3D glasses, these feature integrated prescription 3D lenses for RealD, MasterImage 3D, Passive 3DTVs and Linear 3D. Again, theses are availaible with the same range of coloured frames.
Another product we sell are prescription and non-prescription 2D glasses. These will convert a 3D film into a 2D one, allowing people who what to see a film in 2D watch it with their family and friends who want the full 3D experience. These are available for both RealD/MasterImage 3D/passive 3DTVs and Imax 3D. In the coming months we plan to sell glasses for Dolby 3D and maybe anaglyph glasses too, available with red/cyan, red/green, red/blue, green/magenta and possibly amber/blue. We also plan to look into the possibility of selling active prescription 3D glasses this coming summer.
You can also convert you old frames into prescription 3D glasses with integrated prescription 3D lenses. With P3D Conversion, you order the glasses then send off your old glasses and we will get them converted to presciption 3D glasses made to your prescription before returning them. Only £129.95.
The RealD lenses have recently been granted a CE and ANSI certificates for use as sunglasses. They also protect from blue light.
We demonstrated our glasses at the Gadget Show Live and most people who viewed said that they were impressed and said that they were much more comfortable to wear that the cheap glasses supplied by the cinema, particularly compared to wearing two pais of glasses.
Our glasses have been independently reviewed by OxGadets and by one of our customers.
The verdict of OxGadgets was as follows:
"From personal experience, I can easily tell you how annoying it is when you go to watch a 3D film and have to add another pair of glasses in front of your prescription glasses. Therefore, these glasses provide you the best solution possible with the current technologies available to us. The only problem is that these glasses do not replace my normal glasses, hence they still need to be an extra carry when I go to the cinema."
Our customer wrote, "I plumped for Optics3D's cheapest option, which cost 50 quid. Which is not trivial, I know, but I feel I've come away with a bit of a bargain."
Click here to visit our old site to read about how 3D works.
Please Note: Like most websites this one uses cookies. Click here to learn more.